In August 2019 at Springfield, IL, my research on controlling Japanese Beetles won the championship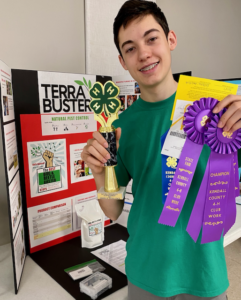 award in Entomology, as well as an INSPIRE award by the judge.
Again in August 2021, after winning a Championship in Entomology at the Kendall County Fair, TerraBuster advanced to the Illinois State 4H Fair and was awarded a second INSPIRE award.
In 2022,  TerraBuster research on the Squash Bug won the county championship and the Illinois State 4-H championship in Entomology.